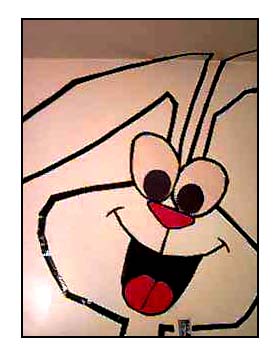 I hate white walls.
I mean really hate them.

So I made a wall art installation at my old apartment of the Trix Rabbit using nothing but tape, construction paper and wrapping paper, I figured lots of other crafty kids might want to know how to do it.

I pitched the DIY article to the magazines BUST, ReadyMade and Budget Living, but no one seemed to care enough to publish my DIY article on it, so then documented how to do it on Grrl.com:
DIY Cartoon Mural

I hope you try making your own mural... it's cheap and fun and can come down easily when you get bored.